An overview of new features, bug fixes, and improvements released in the Cadmus Teacher and Student apps
Check out our latest release, or view previous releases:
✨ August 2022
Student IDs in the class list
Teachers can now see Student IDs (SIS IDs) while managing their class in Cadmus, as well as in Assessment Reports and Grade Downloads. Simply Sync the class list to pull through the updated student information into an existing assessment. Teachers can also search the class list using a student's name, ID, or email address.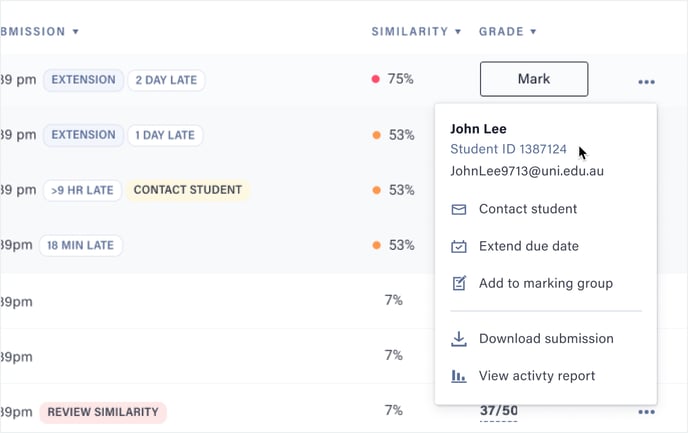 Bug fixes and improvements
We've improved our notifications in app to make it more obvious to students if they lose internet connectivity while working in Cadmus, helping them get back online quickly during major assessments and exams.
Withdrawn students in the class list will be sorted at the end of the class list by default, and excluded from any bulk class management actions like contacting and applying extensions.
✨ July 2022
Improved Class Management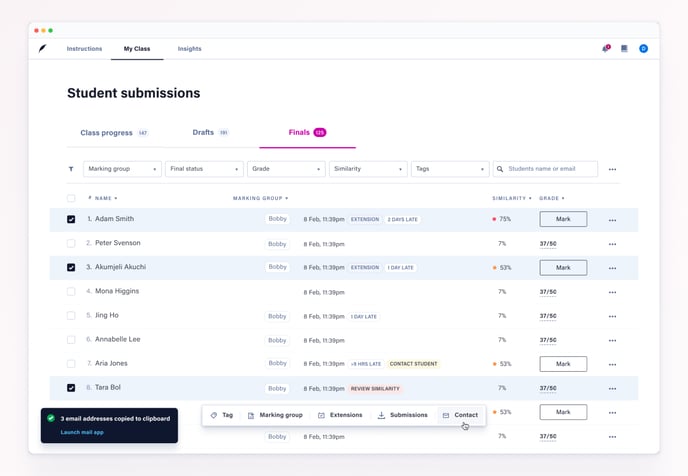 We know how much assessment administration can take teachers away from supporting their students. That's why we've made a heap of improvements to the My Class page in Cadmus, simplifying a range of class management actions in the platform.
It's now easier than ever for teachers to:
Add extensions for multiple students at once
Quickly move students between marking groups
Add custom tags to track submissions and communicate across marking teams
Filter by student progress (or lack of!)
Contact groups of students via email to provide proactive support
Get an accurate picture of enrollments with withdrawn students indicated in the class list
Track if students have viewed feedback (when marking with Turnitin) and when students were last active in Cadmus
Learn more about managing your assessments in Cadmus.
✨ May 2022
Tables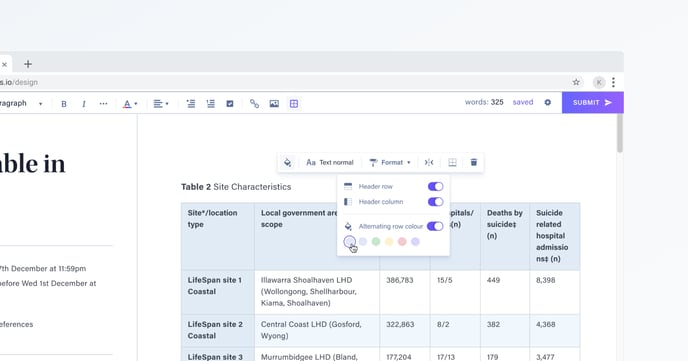 We're excited to release Tables in the Cadmus editing environment, making it easy to structure and organise information in submissions.
With Tables, teachers and students can:
Create clean and simple tables to meet common referencing styles.
Use familiar table formatting functionality like captions, footnotes, colours, borders and merged cells.
Learn more about tables for teachers or tables for students.
Code Blocks & Inline Code
Teachers and students can now add code directly into Cadmus, expanding the range of assessment types supported by the platform for Engineering and IT.
With Code, teachers and students can:
Add code blocks and inline code snippets into instructions, notes, and submissions.
Enable syntax highlighting and line numbers in line with assessment needs.
Learn more about code for teachers or code for students.
Self-service Assessment Reports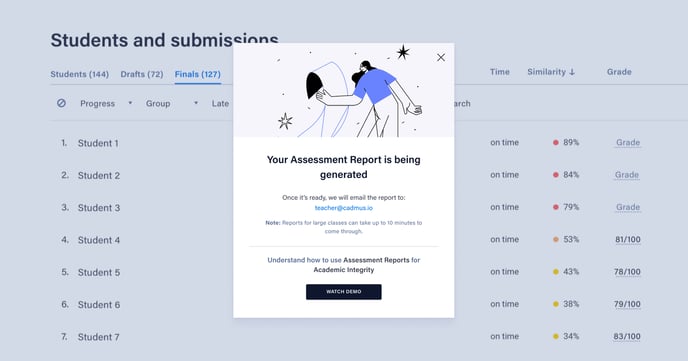 Teachers can now download Assessment Reports directly from the Cadmus Teacher Environment, providing quick access to learning analytics to understand cohort activity and support academic integrity. Simply generate a report from the My Class page and receive it via email — no need to contact Cadmus Support!
Learn more about using Assessment Reports for academic integrity.
Self-service Activity Reports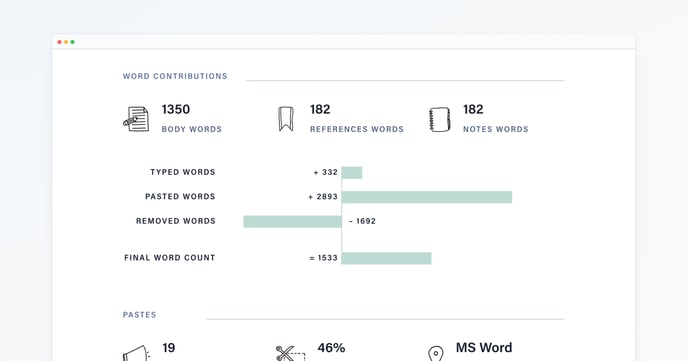 Teachers can also download individual student Activity Reports directly from the class list, providing quick insight into learning processes and submission construction. Navigate to a student from the My Class page, and access the report online via the Student Options menu.
Learn more about accessing academic integrity reports in-app.
Bug fixes and improvements
We've added the ability for teachers to grant extensions for dates in the past, for cases where extensions are approved after students have already submitted late.
✨ March 2022
Free resizing of images

Our most requested student feature from 2021! Teachers and students have more control over images inserted into Cadmus with flexible resizing and alignment. Simply drag the corner handles on an image to make it bigger or smaller. And click through the alignment options to suit your text.
You can also:
Drag image files into the editor to insert them.
Add and align captions to an image.
Resize the image using the presets (fit to text, original size, banner size).
Learn more about images for teachers or images for students.
Bug fixes and improvements
Fixed a bug where submissions were redirecting incorrectly from Cadmus to Canvas SpeedGrader when anonymous marking was enabled. This fix requires LMS Admins to add a Canvas API Key for Cadmus.
Fixed a bug where some Blackboard users were seeing duplicated students in the Cadmus class list.
✨ December 2021
Add hyperlinks to instructions and submissions

Teachers and students are now able to add hyperlinks in Cadmus. This makes it easy for:
Teachers to integrate online resources within the written task instructions.
Students to embed links to external sources in their submission.
Students to add links into the Notes section to easily track and manage research and references.
Learn more about links for teachers or links for students.
This paves the way for deeper linking of Cadmus Manual articles and uploaded resources within Instructions for teachers.
Bug fixes and improvements
Updated the text editor in the Teacher Environment to the ProseMirror framework, bringing it in line with the Student Environment.
Improved the behaviour of nested lists in the teacher and student text editors.
Fixed a bug to ensure that student submissions are not sent to Canvas Speedgrader when Turnitin Feedback Studio is selected as the marking tool.
Fixed a bug where hanging indent formatting was not being applied in PDF submissions sent to Canvas Speedgrader.
✨ October 2021
Integration with Canvas SpeedGrader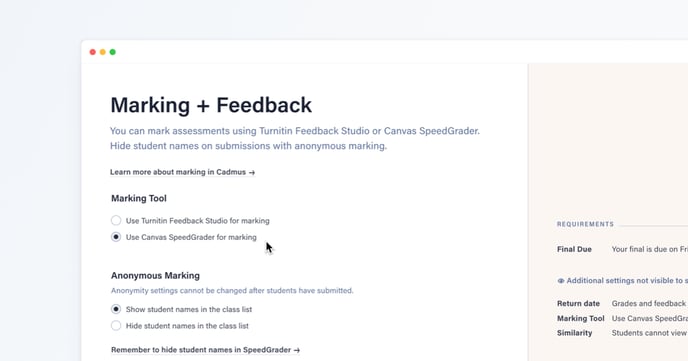 Our new integration with Canvas SpeedGrader gives Canvas users a new option for marking Cadmus assessments, creating a consistent feedback experience for academics, markers, and students. When setting up assessments in Cadmus, teachers can now:
Anonymous marking
Assessments can now be configured to hide or show student names during marking in the Cadmus class list and chosen marking tool. This gives teachers the flexibility to mark submissions in a way that aligns with assessment policy. Anonymous marking is available for:
Learn more about anonymous marking.
More academic support in Cadmus Manual
We've added new guides into Cadmus Manual, covering key stages of the assessment journey. The articles have been created in collaboration with academic skills teams and learning designers, connecting students with a wealth of online university resources.
Bug fixes and improvements
Improved the responsiveness of the formatting toolbar for Teachers and Students.