Learn how to set up and manage anonymous marking in your assessments
Anonymous marking allows teachers to provide feedback on submissions without seeing student names in the Cadmus class list or your chosen marking tool (Turnitin Feedback Studio or Canvas Speedgrader).
In this article, we will cover:
Turning on anonymous marking
While editing your assessment instructions, you can turn on anonymous marking from the Requirements page. Be sure to decide on your marking preferences before releasing the assessment as this setting cannot be changed once students have made submissions.
Follow these instructions to set up anonymous marking:
Accessing anonymous submissions
When you are ready to mark, navigate to the Drafts or Finals tab of the My Class page. From here click Mark to be taken to the submission.

Important! If you are using Canvas Speedgrader + anonymous marking, please ensure that your Canvas settings are set to Show All Sections.
Revealing student names
When anonymous marking is turned on, your class list will show anonymised names in the Drafts and Finals tab of the My Class page.
To reveal an individual student's name
Navigate to the class list on the My Class page.
Click on the More student options button next to the student you would like to reveal.
Click Reveal student name.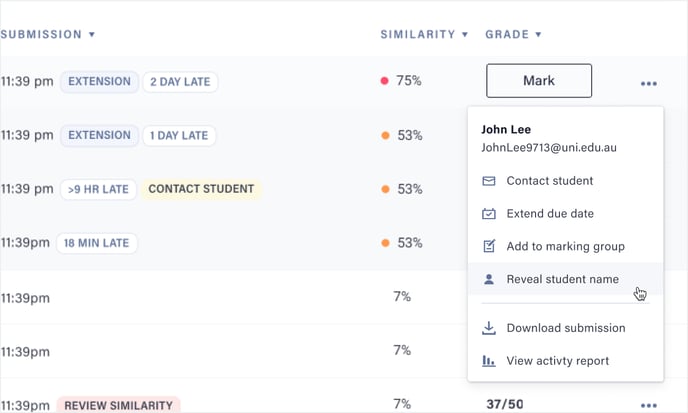 To reveal all student names
Navigate to the class list on the My Class page.
Click on the More class list options button.
Click Reveal all students.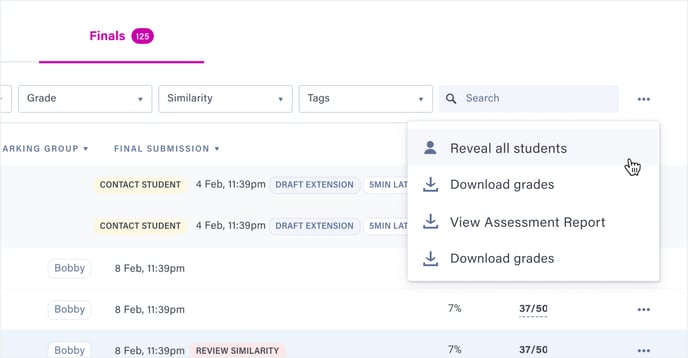 Note: Names will always be shown in the Class progress tab making it easy to track student progress and manage extensions.