Learn how to manage your class and access submissions for marking
On the My Class page in the Teacher Environment, you'll be able to view your class list, get an overview of student progress, and access submissions for grading.
You'll also find a range of assessment management options, like syncing the class list with the LMS class roster, setting up groups, updating assessment requirements, and more.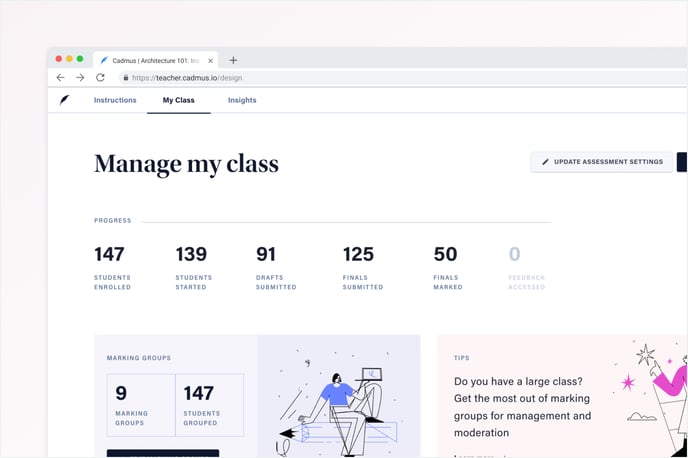 In the Student submissions section, you'll find these tabs:
Class progress
In the Class progress tab, you'll see your full class list. You can use this list to keep track of students that are enrolled in the subject, have started (ie. started writing or started a time-limited assessment), submitted drafts, submitted finals, and accessed feedback. Students will appear in this list once you sync your LMS class roster with the Cadmus class list, or once they access Cadmus for the first time.

Finals
As students submit their finals, their work will appear in the Finals tab for grading. Students appear in alphabetical order by default, but you can use the filters and headings to sort.
Clicking Mark next to a student's name opens their submission in your chosen marking tool for grading.

Drafts
If your assessment requires draft submissions, you'll also see a Drafts tab between Class progress and Finals. From here you'll be able to view draft submissions and provide individual feedback to students by clicking Feedback next to a student's name.