Get familiar with the Cadmus interface for teachers
The Cadmus Teacher Environment is where you create assessment instructions and manage student submissions. To access it, you'll have to create a Cadmus Assignment link in the LMS.
The Teacher Environment is made up of three pages:
Instructions
The Instructions page is where you write and release your assessment. It has two views:
Edit which allows you to edit the requirements, instructions and resources for the assignment.
Released where you can view the latest version of your assessment instructions that have been released to students in the Cadmus Student Environment.
While in Edit mode, you'll see the formatting toolbar along the top.
Cadmus Assignment instructions follow a structured format, broken up into three sections:
Once you're happy with your assessment, you can release it to students by clicking Release in the top-right corner. This will take you to the Instructions page in Released mode. While on the instructions page in Released mode, you'll see a menu in the top-left to access the My Class page. You can also click Edit Instructions if you ever need to update your instructions. This will take you back to your instructions in Edit mode.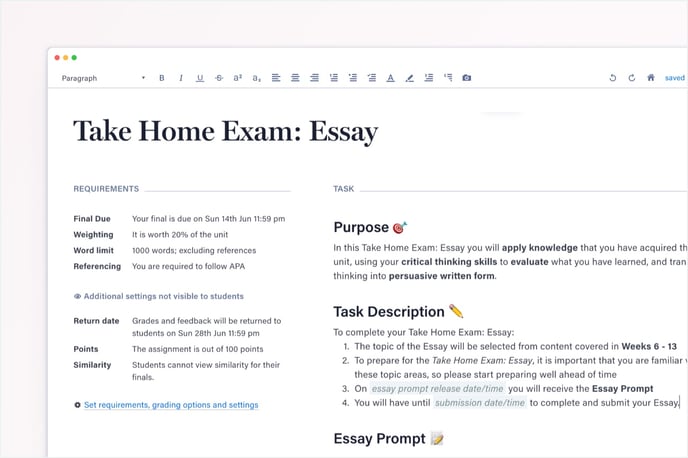 My Class
The My Class page is where you can access submissions for marking and manage your class. You can create marking groups for streamlined marking or get an overview of how students are progressing through the assignment. Learn more about managing your class from the My Class page.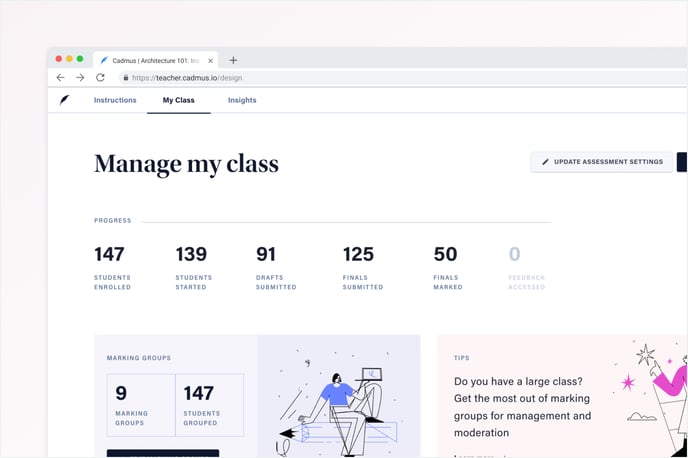 Insights
From the Insights page, you'll be able to access the learning analytics and student engagement data for your assessment. You'll see this data update daily throughout the course of the assessment. Once the assessment is complete and the return date has passed, you'll then see a final summary of student engagement in the task. Learn more about Cadmus Insights.